Features
Features of our concrete techniques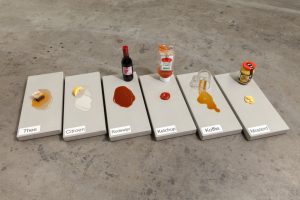 BalsaBeton and BXL share a very unique look and features. The concrete is covered with a special coating that enhances the product's look and protects it against stains. The colour of the surface is a hue of different colours. As a result of the traditional production process, the colour selected in advance is only an indication. The actual colour may vary slightly. It is also possible that some structural differences may occur during the production.
Size tolerance
As a result of the traditional production process, a size tolerance of some millimeters should be taken into account.
Two weeks hardening time for the coating
It is possible that the coating of the concrete reaches its maximum hardness only at a later stage. In order to avoid unnecessary damages we recommend you to be particularly careful during the first two weeks with regard to the following:
Make sure that fluids, such as coffee spills, do not stay on the worktop for a longer time
Do not cover the worktop (also not partially) to ensure that the coating can breathe.
Do not place objects on the surface for a longer time. The surface needs to ventilate.
After these first two weeks you can enjoy your worktop carefree and without any concessions!