Maintenance
Maintenance of our concrete techniques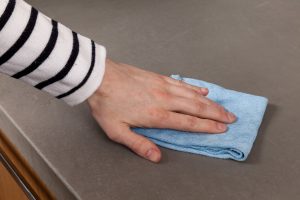 In order to enjoy products made from BalsaBeton and BXL as much as possible, we strongly advise you to read and follow the care instructions.
General care instructions
Clean your worktop with soft soap (fluid or traditional).
Do not use scouring pads or other abrasive materials to clean your worktop.

Move objects on the worktop by lifting them up. Shoving them can cause scratches and wear-out.

Use a cutting board and do not cut directly on the worktop.

Do not place hot pans on the worktop.

Electronics that produce steam may damage the coating.

Repair damages in the coating immediately. This way, you avoid colour differences on your worktop.
You can find more information about repairing your worktop or coating under 'repair'.
How to deal with persistent dirt?
We advise you to follow these steps when dealing with persistent dirt or stains:
Apply a bit of Glorix to the stain

Cover the stain with a wet cloth

Let it sit for about one hour

Clean the spot with plenty of water