Concrete Techniques
Concrete is becoming increasingly popular in a broad range of projects. The rough material has a sturdy look and is a real eyecatcher. Unfortunately though, traditional concrete is heavy and prone to stains and bursts. Evolve has the solution!
Our concrete techniques BalsaBeton, SkinConcrete and BXL are lightweight, maintenance-free and very robust. These techniques can be applied in the production of various products. Concrete worktops and surfaces for fireplaces are only a few examples.
Compare the different products below and decide which ones fits best to your market and clients. Do you have any questions? We'd be delighted to explain our products and explore your ideas, just contact us!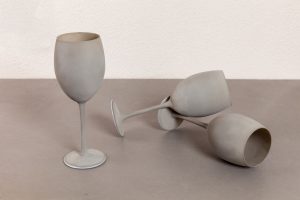 SkinConcrete
SkinConcrete transforms any product into concrete by spraying a thin layer of modified micro-concrete on the object. This unique product developed by Evolve makes it possible to easily convert anything into a concrete centerpiece. SkinConcrete is used by interior stylists, designers and architects in a variety of ways.